Impact
Drive-in Movie Night Raises Awareness of Food Waste, Hunger
It's up to all of us to make changes that will reduce the amount of food waste in our country. That's the message heard by those watching "Wasted! The Story of Food Waste" during Saving Grace's Drive-in Movie Night on Oct. 8.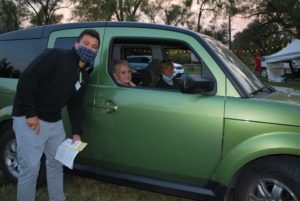 The fundraiser, which celebrated Saving Grace's seventh birthday, provided a safe and unique opportunity to connect with supporters. Funds from the event support Saving Grace's work to feed the hungry in our community, while keeping food out of the landfills.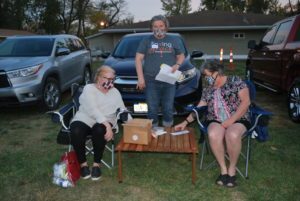 The event also provided an opportunity to build awareness, as "Wasted" highlighted the realities of food waste. Forty percent of the food produced in the United States goes to waste, and 90 percent of this wasted food ends up in landfills. That doesn't have to be the case, according to the documentary. The film showed how some of the world's most influential chefs make the most of every kind of food, transforming what most people consider scraps
Produced by the late produced by the late Anthony Bourdain, "Wasted" also took viewers to a farm in Japan where pigs are fed specific kinds of recycled foods to create flavor profiles in the meat. The film showcased how millions of tons of produce go unharvested every year, often because of physical appearance. It highlighted how consumers are not taking advantage of all the edible parts of a plant. Leaves comprise 60 percent of a cauliflower plant, for instance, but they are discarded, even though they taste good. It also illustrated the impact of food in a landfill – a head of lettuce takes 25 years to decompose.