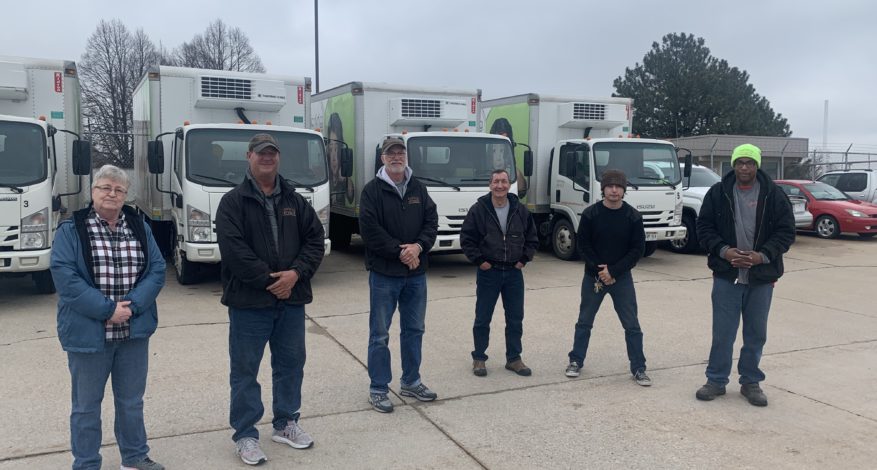 Impact
Kitchen Closings Lead to Donated Food
In these uncertain times, one of the bright spots is how our community is coming together to ensure food is available for our neighbors who are hungry.
"Our team at Saving Grace has been privileged to see this first-hand and to help connect food with those in need," says Beth Ostdiek Smith, CEO and founder.
As restaurants, event venues, casinos and bars began to close last week due to COVID-19, many managers made sure food on hand didn't go to waste. Some first offered this food to their employees who would not have jobs for the foreseeable future. Saving Grace was called upon to rescue their excess foods as they closed down their kitchens, including pallets of fresh fruits and vegetables, dairy, and meats. Our director of field operations and our five drivers (shown in photo) worked tirelessly to coordinate and pick up this food, in addition to handling scheduled pickups from our regular donors. Thanks to the Omaha Restaurant Association for getting the word out, as many of these businesses were unaware of Saving Grace's work to connect surplus perishable food with local nonprofit agencies.
We want to thank and acknowledge these local food vendors that, during this challenging time, gave back to our community by donating food as their kitchens closed.
Last week, in addition to our regular food donations , Saving Grace was able to capture over 22,000 extra pounds of perfectly good perishable food from kitchen closings and deliver it – free of charge – to more than 40 nonprofit partner agencies that feed the hungry. The large pallets of food were delivered to Open Door Mission, Juan Diego Center, St. Martin de Porres Senior Center, Salvation Army North Corps, Stephen Center, Heart Ministry Center, Heartland Hope and ENCAP.
During these unprecedented times, Saving Grace is dedicated to maintaining our core operations, while staying fluid to partner in other ways to transport food to those in need.
Our heartfelt thanks to all of the businesses, nonprofits and individuals who are supporting community efforts to make sure food is available to those who need it. It's truly making a difference.
If you would like to support Saving Grace's work to feed hungry bellies rather than landfills with healthy, surplus perishable food, make a donation now.