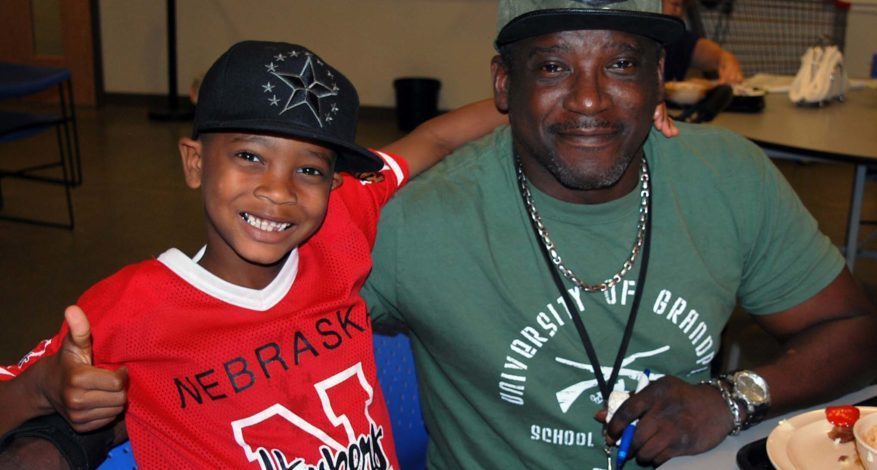 Impact
Making a Difference, One Meal at a Time
Wednesdays are the favorite day of the week for the women at Santa Monica House. That's when Saving Grace's refrigerated truck pulls up and our driver drops off produce, prepared meals, sandwiches and other healthy perishable food.
If there's fresh fruit on the children's dinner plates at Boys and Girls Club of the Midlands' north location, it's because Saving Grace delivered it that day.
At the Stephen Center, Chef Robert has a reputation for serving quality meals, and the variety of foods provided by Saving Grace helps ensure clients enjoy nutritious breakfasts, lunches and dinners.
It's heartwarming to hear how having access to nutritious food that would otherwise go to waste makes a real difference in so many lives in our community.
Santa Monica House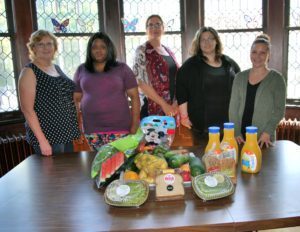 Michelle at Santa Monica House appreciates the large containers of chicken alfredo and manicotti provided by Saving Grace. "It is a nice variety, and I love that we can share all of this food."
Women at Santa Monica House, which provides substance abuse treatment, are responsible for their own breakfast and lunch, and they eat dinner together each evening. Prepared and prepackaged foods are convenient for the women to take with them to work or to grab for lunch after group meetings. Larger servings of prepared meals, such as lasagna, are often served for dinner.
"I very much enjoy the fresh vegetables and fruits," says Alex. "Yesterday we got asparagus. I had it for lunch and it was so good."
Toni also is a fan of the produce Saving Grace delivers. "I love fruits and vegetables since I am prediabetic. They are wonderful."
Thea appreciates the fresh juices, such as pomegranate, orange pineapple and mango. Ashley likes the convenience of opening the refrigerator and having donated food available. "It gives me choices, so it's easy," she says.
The Saving Grace deliveries often include fun surprises. "A couple of weeks ago we had a charcuterie tray," Michelle says. "We do like the sweets, too. The chocolate dusted almonds last week were a treat."
Receiving donated food from Saving Grace has financial benefits for Santa Monica House. "It cuts down on our costs of buying food," says Marie, case manager. "It also gives the women a lot of variety, so they aren't eating the same thing every day."
Stephen Center
Katy, a Stephen Center client who works in the kitchen, sees firsthand how "food nourishes the mind, soul and body." She adds, "I think a lot of the people, due to drug and alcohol abuse and other hard situations, have not had good, fresh meals in a while."
Chef Robert Wilson takes pride in serving a good meal. "A lot of the times, the food they get here is restaurant quality." One recent lunch included honey garlic beef patties; roasted cauliflower and broccoli; seasoned mashed potatoes or rice; salad bar, pasta salad and/or potato salad; tortilla soup; watermelon and a roll. The entrée was created from hamburger patties from Saving Grace, and the vegetables were seasoned with soy sauce and ginger. Much of the produce on the salad bar is provided by Saving Grace.
Wilson appreciates that the food delivered by Saving Grace is fresh. "The produce really helps out a lot. I just love the options Saving Grace offers me. When I'm in a bind, they bring me what I need."
Clients value the quality of the meals and having choices from all of the food groups. "The lunches and dinners are amazing," Devon said as he finished lunch with his six-year-old son.
Kenneth, who hadn't eaten for days before coming to the shelter, now gets all he wants at meal times. "It's awesome that you have plenty," he says. "And the quality is outstanding."
Renee says it's awesome to have healthy choices. "When you deprive your body for so long, it's good to have something from all of the food groups," she says.
For these clients and many others, food provides more than just nourishment. It also can transform a person's mind and body. "A hot meal may remind them of mom or dad or a better situation," Katy says of the Stephen Center's clients.
Boys and Girls Club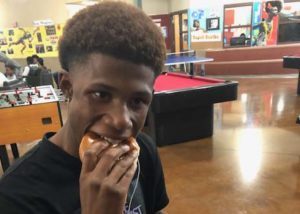 "The biggest thing is the fresh fruit," says Dave, unit director at Boys and Girls Club. "That is the last thing our families buy when they go to the grocery store because they can't afford it. We really can't either." When fresh fruit from Saving Grace isn't available, the club serves canned fruit.
Food from Saving Grace also is used as incentives for the Readers to Leaders program that helps younger kids with their reading skills. "We heavily incent this program because we want the kids to learn to read," Dave says.
Sandwiches and veggie packages are appreciated by hungry high school students arriving at the center following sports practices, providing them with a snack to tide them over until dinner is served.
"The littlest stuff makes the biggest difference," Dave says. Individual packages of carrots and celery, peanut butter and jelly sandwiches, and trail mix are popular with the kids.
Partnering with Saving Grace benefits the Boys and Girls Club in several ways. "No. 1 is financial," Dave says. Additionally, kids receive fresh fruit they would not have an opportunity to have otherwise, and the donations save on costs for incentives.