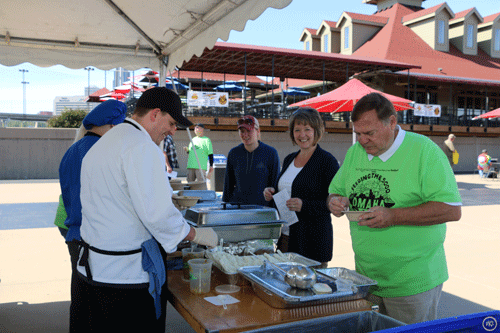 Past Events
Feeding the 5000 Omaha – October 2015
Omaha became only the third U.S. city to host a Feeding 5000 event to shine a light on food waste when Saving Grace Perishable Food Rescue, along with the London-based organization Feedback, brought the global campaign to Nebraska on October 4, 2015.
Local chefs prepared 190 gallons of a hearty autumn soup that was served free of charge at event. Butternut squash, acorn squash, potatoes, green peppers, beans and other produce gleaned from area farms were seasoned and roasted, then added to a stock that previously simmered for several hours to create the soup that was served free to the public. More than 1,000 bowls of soup were dished up at the event, and the leftovers were taken to the Sienna Francis House to feed the nonprofit's clients.
Making the huge pots of soup using produce that otherwise would have been wasted shows the impact of rescuing food," said Beth Ostdiek Smith, president and founder of Saving Grace Perishable Food Rescue. More than 5,000 pounds of produce and other products were rescued and used for the soup and grocery area at the event. Volunteers visiting area orchards and fields gleaned 2,400 pounds of apples, 600 pounds of potatoes, 550 pounds of squash and 300 pounds of beans and other produce, and local farms donated additional vegetables.
Feeding the 5000 Omaha called attention to the issue of food waste in the Heartland and in the United States. Food is the largest contributor to landfill waste in Omaha, yet one in five kids in our community may go to bed hungry every night. Americans throw away approximately one-quarter of all food and beverage purchases, which adds up to $1,350 to $2,275 lost per year per household.
The event also included on-stage cooking demonstrations by celebrity chefs, music, children's activities, and interactive booths designed to educate children and adults about food waste and inspire them to take action to reduce food waste in their personal lives and in their communities.
(Photo by Debra S. Kaplan)