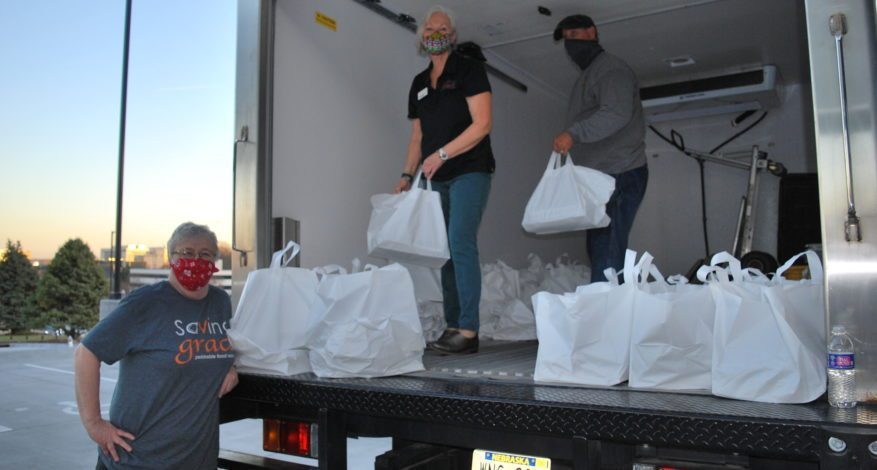 Events
Take-Home Experience Focuses on Hunger, Homelessness in Omaha
Hunger and homelessness are realities in Omaha. Over 90,000 people in the metro area are food insecure, meaning they lack consistent access to enough food for an active, healthy life. More than 1,400 people are homeless.
The Stephen Center and Saving Grace Perishable Food Rescue, along with presenting sponsor American National Bank, are shining a light on these issues with the third annual Omaha Hunger Experience on Thursday, November 18. Held during Hunger and Homelessness Awareness Week, the "take-home" event includes dinner with a twist.
Participants will receive a gourmet take-home meal for four, with dessert, to heat and serve, along with a low-cost sack supper typical of what someone experiencing food insecurity may eat, all for $85. An included activity that explores hunger and homelessness in our community will engage dinner attendees as they answer questions and accumulate points, with the person receiving the lowest score opening the low-cost meal.
"We have neighbors right here in the Omaha area who go hungry each day. Some 12% of our population is food insecure, and they lack access to healthy, nutritious food needed to support good health. The pandemic has only made things worse," said Beth Ostdiek Smith, Saving Grace founder and CEO.
"Stephen Center serves over 200,000 meals to homeless and low-income men, women and children each year," Michael Wehling, Stephen Center executive director, said. "Food insecurity and homelessness usually can't be pinned on just one problem. This event is designed to shine a light on what it is like to experience hunger and homelessness."
Community members are encouraged to gather with family or friends to take part in the Omaha Hunger Experience. The event is one week before Thanksgiving, which is timely when reflecting on the disparities between those who have enough to eat and those who experience hunger. Participants who bring a frozen turkey or ham to donate to those in need will receive a free Omaha Hunger Experience apron, while supplies last.
The registration deadline is Friday, November 5. Participants will select from one of three dinner options at the time of registration.
Meal kit pickup will be at American National Bank at 90th and Dodge from 3:30 to 6 p.m. on Thursday, November 18.
To learn more, view meal choices and register, go to tinyurl.com/omahahungerexperience. Catering is provided by Attitude on Food.
All proceeds benefit Stephen Center and Saving Grace Perishable Food Rescue.