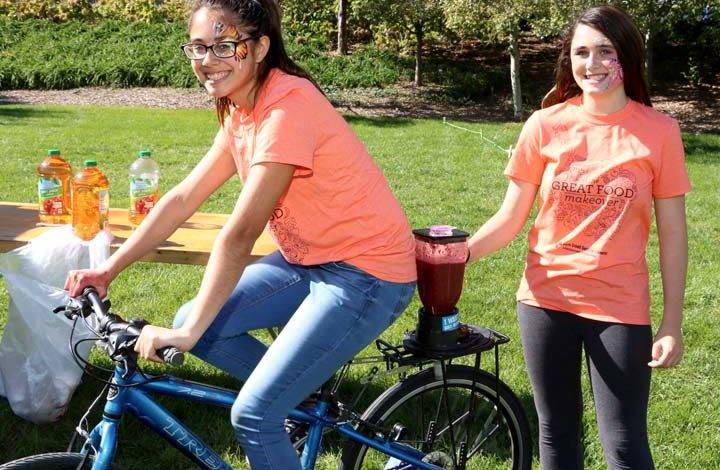 Past Events
The Great Food Makeover: A No Food Waste Fest – October 2016
Presented by Saving Grace Perishable Food Rescue and sponsored by Farm Credit Services of America, The Great Food Makeover raised awareness of food waste and hunger in our community. Food is the largest contributor to landfill waste, yet one in five kids go to bed hungry every night. The family-friendly event also included kids' activities, entertainment and interactive displays.
Saving Grace is a leader in bringing awareness to Omaha about the growing international movement combatting food waste. According to the United States Department of Agriculture (USDA), approximately 30 to 40 percent of food is wasted in the United States. Last fall, the USDA and the Environmental Protection Agency announced the first-ever national food waste reduction goal – a 50 percent decrease by 2030.
"Making the huge pots of stew using produce that otherwise would have been wasted shows the impact of rescuing food," said Beth Ostdiek Smith, president and founder of Saving Grace Perishable Food Rescue. Chef Kevin Newlin of the Salvation Army Kroc Center created the stew recipe. Apples seasoned with salt, sugar and oil were roasted and pureed to form the base. Potatoes, squash, peppers, onions and other produce that had been chopped the day before by ProStart culinary arts students from local high schools were added to the stock. The resulting stew – enough to feed 500 — rivaled recipes served in gourmet restaurants.
Julie Cornell, KETV anchor, was emcee for the event. Other participants included the Central High School Jazz Band, Grace & Logan, Omaha Street Percussion, North High Jazz Band and North High Drum Line. Representatives of food donor and food recipient agencies also spoke about Saving Grace's impact.
View photos of The Great Food Makeover from our Facebook album.  Check out the news coverage of the event.
(Photo by Debra Kaplan)