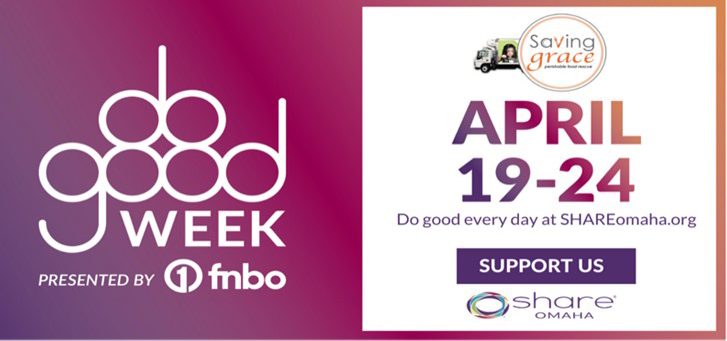 Events
Ways to Support Saving Grace during Do Good Week
While 2020 was the final year for Omaha Gives, Saving Grace is excited about a new opportunity through Share Omaha for our community to learn how we feed hungry bellies, rather than landfills, with excess perishable food.
Support Saving Grace during Share Omaha's Do Good Week April 19 to 24 and multiply the impact of your gift. You'll help us rescue and provide nutritious food – free of charge – to our 40-plus nonprofit agency partners. These after-school programs, senior citizen centers, food pantries, shelters, transitional living facilities and other organizations feed our hungry neighbors. And, many of these agencies need more food for their clients because of the pandemic. See our list of partner agencies.
The five days of Do Good Week are dedicated to meeting a wider variety of nonprofit needs in our community, followed by a day of celebration:
April 19 – Mission Monday. Learn about Saving Grace's mission.
April 20 – New Donor Tuesday. If you are not currently a Saving Grace donor, please give to us for the first time.
April 21 – Wish List Wednesday. Check out our wish list and help supply needed items for our trucks or office.
April 22 – Volun-Thursday. The value of a volunteer hours is $27.20. In honor of our small team of volunteers, donate this amount to Saving Grace today.
April 23 – Fund It Friday. Give to a cause that matters to you. Saving Grace's work addresses important community issues, including hunger, food equity, wasted food and the environment.
April 24 – Celebration Saturday. It's time to celebrate your generosity. Cheer for local nonprofits as they win cash prizes from First National Bank of Omaha, Omaha Steaks and Pottawattamie County Community Foundation.
Make a donation to Saving Grace through Share Omaha. Find out more about Share Omaha's Do Good Week.