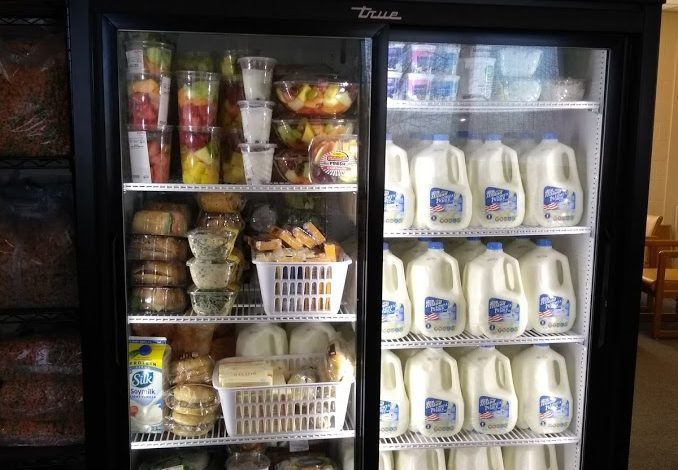 Impact
Saving Grace and Project Hope Work Together to Feed the Hungry
While the pandemic may have altered the way Project Hope distributes pantry items to those in need, it hasn't changed the agency's focus on providing healthy perishable foods provided by Saving Grace.
Two days a week, Saving Grace's drivers deliver fruits, vegetables, sandwiches, dairy products, eggs, meats and other perishable foods to Project Hope. Veda Keebler, executive director, estimates that one-third of the food Project Hope receives for its pantry comes from Saving Grace.
"Our clients would not get near the amount of food they do if we didn't have Saving Grace," she said.
Keebler and Beth Ostdiek Smith, Saving Grace's CEO, president and founder, talked about how the two agencies work together to feed the hungry during a recent Food for Thought event held via Zoom.
Smith said Saving Grace has provided Project Hope with over 75,000 pounds of perishable food since April 2017. On Tuesdays, one Saving Grace truck and driver delivers food from three Hy-vee locations. On Thursdays, two trucks and drivers deliver food from QuikTrip, Chick-fil-a, Trader Joe's, Whole Foods and two Hy-vee locations.
"All of the food is great, healthy food," Smith said.
Rather than clients coming into the pantry to select foods, distribution is now done outside. Clients complete a registration form, and "they identify foods they could use at home for their families," Keebler said. Volunteers then collect the food the clients have selected and deliver it to the backseat or trunk of their vehicles.
"We really feel it helps to let them choose their own items," Keebler said. Most of the refrigerated items available come from Saving Grace. "It really is a big help for our clients."
Keebler said the number of clients Project Hope served doubled at the beginning of the pandemic, then decreased some. Keebler was especially appreciative of the large delivery Project Hope received from Saving Grace after it picked up food from restaurants, event venues, casinos, bars and other food vendors as they closed their kitchens in March and early April because of COVID-19. "We were able to use it for four weeks to serve our clients," she said.
Project Hope is one of 41 nonprofit agencies that receive fresh perishable food, free of charge, from Saving Grace. While some of these nonprofits are currently closed, others are requesting additional food to meet the needs of their clients.