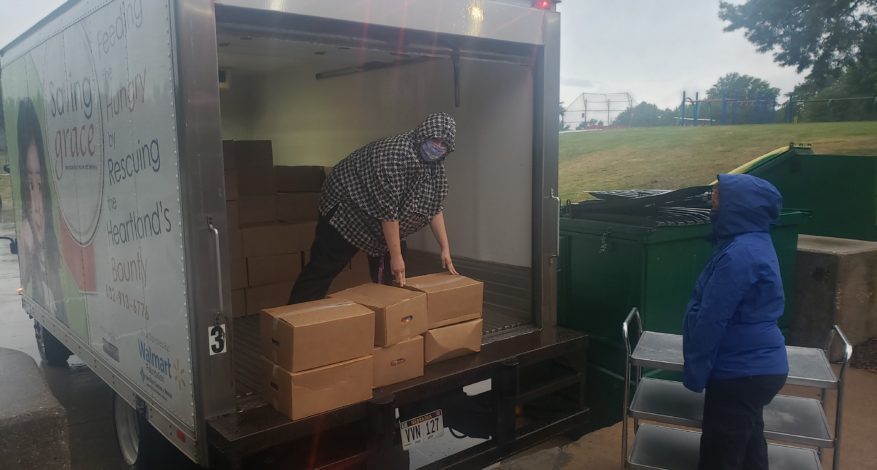 Impact
Saving Grace Addresses Food Needs during Pandemic
Saving Grace has been on the forefront of community efforts to find creative ways to distribute more food to neighbors who are food insecure during the pandemic.
New Ways to Connect Food to Those in Need
"We are trying to stay open to this ever-changing environment and how we can be effective," said Beth Ostdiek Smith, CEO and founder. In addition to providing its normal food rescue services, Saving Grace has relied on its unique distribution and logistics services to address emerging needs for food by:
Rescuing over 42,000 pounds of food in March and early April as restaurants, event venues, casinos, bars and other food vendors closed and emptied their kitchens because of COVID-19.
Delivering USDA Farmers to Families Food Boxes of produce and dairy:

Assisting Catholic Charities by distributing food boxes of produce and dairy each week to families in need beyond those served by that agency's pantries. Nearly 208,000 pounds of food have been distributed to other local nonprofits for their clients.

Working with the Food Bank of the Heartland and Millard Public Schools for two months during summer break to pick up food boxes three days a week from a semi-truck at Millard South High School. These were delivered to nine schools that served as distribution locations, providing more than 115,000 pounds of fresh produce to local families in need.

Partnering with the COVID-19 Garden/Farming Response group and several community gardens that are increasing their current spaces and creating new garden areas to provide produce to address food insecurity. Saving Grace provides the logistics/distribution services to connect this fresh produce with local nonprofit partners. This includes working with Seimbra Nebraska to provide logistics and transportation services for this agricultural project that is growing fresh fruits and vegetables in South Omaha for neighborhood families.
Stepping up efforts to recruit additional food vendors to meet the increased need for healthy food.
Supply Chain Affects Food Rescue
Before the pandemic, Saving Grace picked up excess perishable food from 58 food vendors and delivered it to 41 nonprofit partner agencies. With some businesses still closed and other experiencing disruptions in their supply chain, normal pickups have temporarily decreased, which provides an opportunity for us to add new food donor partners.
Saving Grace's monthly numbers illustrate how we have sought out new ways to provide food and adjusted operations to meet challenges during the pandemic. In March, the amount of food rescued totaled 90,656 pounds because of the extra pickups as kitchens closed. Many of the businesses had not previously partnered with Saving Grace, but they donated after learning of the opportunity from the Omaha Restaurant Association. Totals dropped the next two months as some food donors experienced supply chain issues and others were closed. In June and July, the total increased to 132,832 and 209,544 pounds, respectively, as Saving Grace provided transportation and logistics services for Catholic Charities, the Food Bank, Millard Public Schools, and community gardens.
Saving Grace continues to look for opportunities to use our refrigerated trucks and drivers to respond to changing community needs for perishable food.