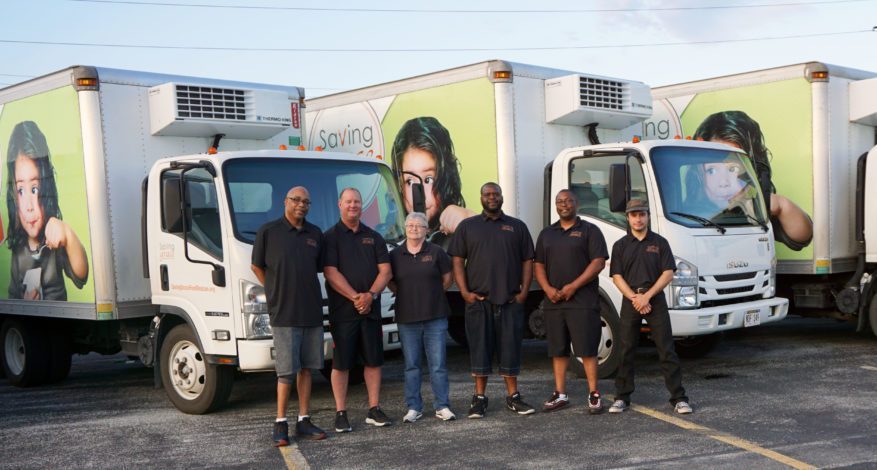 Impact
Retiring Field Director Reflects on Her Career
Saving Grace Perishable Food Rescue has experienced phenomenal growth during its nearly 10-year history, and Judy Rydberg, director of field and logistics, has been instrumental in this success.
After nine-and-a-half years in her position, Rydberg is retiring at the end of the year. Rydberg said she is honored to have played a part in Saving Grace's beginning.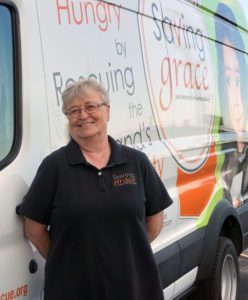 Rydberg was working for Waste Not, a food recovery organization in Arizona, when Beth Ostdiek Smith, who wanted to start a similar organization in Omaha, met with her to learn about the operation. Fate was at work, as Rydberg, a native of Omaha, was looking to move back home. "I had my resume with me and gave it to her," she notes.
Rydberg Brings Food Rescue Experience to Omaha
Rydberg brought her 12 years of experience with Waste Not to Omaha, joining Smith – Saving Grace's founder and CEO – as her first employee in June 2013. The two spent months lining up food donors and food recipients, setting up tracking systems, obtaining a refrigerated truck and getting organized. Saving Grace' first pickup was on Sept. 30, 2013.
"I was the driver and the field director for the first three months," Rydberg recalls. Today, Saving Grace has six refrigerated vehicles, four drivers and a field manager. "That's how much we have grown in nine years," she says.
Looking back on her time with Saving Grace – which she says flew by – Rydberg is appreciative of the faith Smith had in her, the drivers and staff she has worked with, and the food donors and recipients. "A lot of them have become friends, and that is something I'm grateful for," she adds.
While Rydberg has collected many stories over the years, one in particular stands out. As soon as the truck was unloaded at Heart Ministry Center, people began picking up food. One elderly lady had a bouquet of flowers from the truck in one hand. "That image is so embedded in my mind because she not only got food, but flowers, which was really special," she says.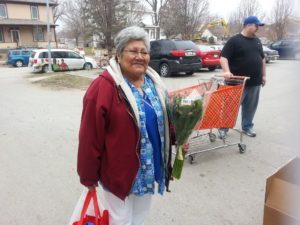 "It's a good feeling to see people who are getting the food," she adds. "They are so happy to get it, and they are so gracious."
The last two-plus years have been challenging, as regular food donations dropped during COVID because of supply chain issues and business closures. Some recipient agencies were not able to keep their doors open. Rydberg coordinated pickups from the Farmers to Families food box program, which filled the gap in donations and allowed Saving Grace to continue providing food to its nonprofit partners.
Donations Begin Picking Up; Need for Food Is High
"Things are starting to pick up now, and people are showing an interest in donating food again," Rydberg says. She also notes the need for food is high, especially around the holidays and with inflation. "It's more than it was when I first came here nine years ago," she says.
She attributes Saving Grace's success in rescuing food to good teamwork, along with the staff's positive interactions with food donors and food recipients. "We are nothing without them, and we are everything for them," she says of the food donors and food recipients.
Since operations began, Saving Grace has rescued and redistributed more than 7.6 million pounds of nutritious perishable food.
Rydberg says her position has enabled her to see firsthand the need for food in our community. "It humbles you, and you are grateful you have the opportunity to help."
Saving Grace has the capacity to rescue more food and make an even bigger impact on food insecurity in our community. "We just need more food donors to step up and help," she says.
While she is retiring, Rydberg said she will continue to watch Saving Grace and support the organization. "I see it doing nothing but growing," she adds.